Join Dairy Cares, the California Milk Advisory Board, the Dairy Council of California, the California Dairy Research Foundation, and the California Dairy Quality Assurance Program for this inaugural two-day event that will:
Showcase California's world-leading achievements in sustainable dairy farm practices and the role dairy plays in the global food system
Explore new ways for dairy farmers to continue improving environmental sustainability, develop new business opportunities, and reduce on-farm costs
Highlight information, technology, and services that can support dairy farmers' efforts to meet continuing challenges, further improve efficiency, and ensure economic and environmental sustainability
Early bird rates are available until September 28, 2018.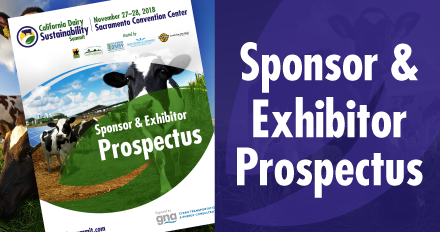 Connect with dairy industry leaders that are interested in technology and services that can support their efforts to further improve efficiency and environmental sustainability.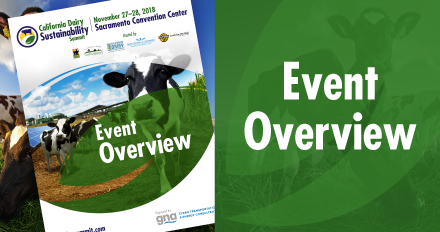 Learn about the educational panels, workshops, and exhibitors that attendees will have access to at the inaugural California Dairy Sustainability Summit.
cadairysummit.com
This event is being organized by Gladstein, Neandross & Associates (GNA) on behalf of the event hosts.